I'm leaving this heartfelt missive, and lovely missive, from Miles and Ameline here. I understand that the grand people of Rowany are soon to have new leadership, and I'll have the new announcement here as soon as it's been penned, and received by certified courier. For now, rest assured in these words of love.. ~ Herr Maximilian von Monsterberg.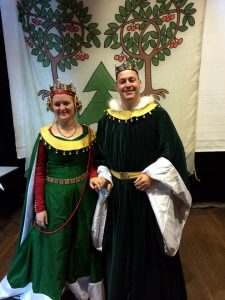 Ameline and Miles, Baroness & Baron of Rowany, send greetings to the populace of Lochac.
It is our privilege as the Baronage Rowany to welcome every year at Rowany Festival the largest gathering of the Lochac Populace. We look forward to greeting old friends, making new ones, and seeing in person the great achievements made by the Kingdom.
It fills us with pride to be part of such a rich and diverse company. Courtesy is one of the virtues we as a Society hold dearest, and we see proof of this in the populace of our Barony, and the Kingdom at large. But last year's Rowany Festival set some examples of which we cannot be proud, and we will not allow to be repeated. We were saddened to be informed of numerous occasions where those working on behalf of Rowany Festival were met with rudeness and abuse. We cannot condone this.
We are a Society of volunteers. Every officer, every steward, every constable-on-duty – they are acting for the benefit of us all. If you cannot display courtesy and respect to those putting in the hours to make our Society continue, to make Festival continue, please do not come. If it is brought to our attention that this lack of courtesy continues, you will be asked to leave.
We look forward to celebrating Rowany Festival with you all, in not very long at all. We wish you the best for your preparations, and safe travels.
Ameline et Miles, Baronage Rowany
AS XXXXX