FESTIVAL 2017 ARTS AND SCIENCES TIME TABLE IS UNDER CONSTRUCTION! 
You may, however, like to see all the awesome classes that were on offer in 2016, below.
If you are keen to see a certain class run, or even run a class yourself, get in contact with the Arts and Sciences officer for 2017 (email address to come).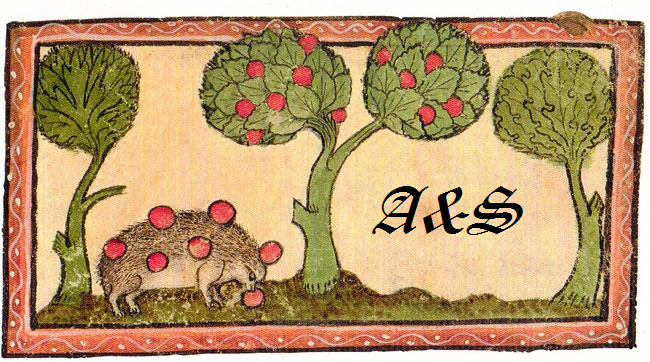 2016 DRAFT A&S timetable
Time
GREAT HALL
A&S 1
A&S 2 – Meeting pavilion
OTHER
Thursday
9:00
10:00
Nalbinding 1
Jeneur le Geline
11:00
List Keeping 101
Shoe making tools
Eleanora de la Birche
William de Wyke
12:00
13:00
Voice Heraldry 101
Bardic Circle Songbook Project
Scotland pre 1066
Merione French
John Biasutti
Cairistiona Inghean Raghnaill
14:00
Feast Logistics
Basket Weaving
Brigid
Blodeuwydd (Officers' tent)
15:00
Interrogating Items for Research
Drawing Animals – Workshop
Nalbinding 2
Sophia van Dorne
Tailltiu ghoirt ruaidh
Jeneur le Geline
16:00
Family Papers
Constables Meeting
katherine kerr
17:00
Chirurgeonate Meeting
Friday
9:00
SCAA Ltd AGM
10:00
SCAA Ltd AGM
11:00
Basic Mead Brewing
Making bristles and waxed thread for shoe making
Op-Shopping with Lavinia
Iseobail (Taryn)
William de Wyke
Lavinia of the Tyrol
12:00
13:00
Bayeaux Stitches
The Market Wallet
Jadwiga
Jeneur le Geline
14:00
Viking Treasure Necklaces
Come and See my Undies
General Finance Meeting
Towards a more period campsite
Marozia moglie de Basilio Bracciolini
Nimue
Rowan Peregrine (Atelier/Forge Campsite)
15:00
Singing Rounds from the Lant Roll
Illuminate a Capital Letter – Workshop
Reeve Meeting
Crispin Sexi
Tailltiu ghoirt ruaidh
16:00
Wear Your Pearls Like a Queen
Company Of Archers
Maelmuire ingen Alpin
17:00
Dance Musician gathering
Medieval Academic Dress
Jeneur le Geline
Annabelle Perrot
Saturday
9:00
Market
An Introduction to the College of Heralds
Brian dorcha ua Conaill
10:00
Market
Equestrian Round Table
Jon Dai
11:00
Market
Patterning Hose
Pelican Meeting
Hugh de Calais
12:00
Pelican Meeting
13:00
Rise of the Actress in Italian Improvised Theatre
Malcom Patersone (Jolly Duke Tavern)
14:00
AS50 Display
Bellydance
Viking Beads
Miriam bat Shimeon
Cecily de Montgomery
15:00
AS50 Display
Seneschal Meeting
16:00
AS50 Display
A Brief Look at Russian Clothing
Rose Tea
Natal'ia Vladimirova 'doch
17:00
Rose Tea
Sunday
9:00
Types of Axes and Their Uses
MoD Meeting
Hugh de Calais
10:00
Broiderer's Meeting (WCoB)
Patterning the Russian Costume
Natal'ia Vladimirova 'doch
11:00
Mamluk Embroidery
The butted seam for shoemakers
How to Pick your Sources
Miriam bat Shimeon
William de Wyke
Marozia moglie de Basilio Bracciolini
12:00
Children's Ball
13:00
Caroso Ball
English, and how it got that way
Herb and Garden Guild Meeting
Brian dorcha ua Conaill
14:00
Caroso Ball
It's all pretty much Running Stitch
Laurel Meeting
Sophia van Dorne
15:00
Medieval Mustards
Laurel Meeting
Brigid
16:00
Hand Sewing Techniques
Yolande Kesteven
17:00
C76
Monday
9:00
10:00
Mosaic history and technique
Nalbinding 1
Chivalry Meeting
Rowan Peregrine
Jeneur le Geline
11:00
Tips and Tricks to improve your Embroidery
The simple board and wedge last
Chivalry Meeting
Muirghein
William de Wyke
12:00
13:00
Make your own Viking hood
Lavinia of the Tyrol
14:00
Late 15thC linen headdresses
Annabelle Perrot
15:00
Nalbinding 2
Jeneur le Geline
16:00
17:00