FESTIVAL 2017 WARS ARE STILL UNDER CONSTRUCTION. PLEASE CHECK BACK SOON. 
In the mean time, have a look at what we got up to last year, below.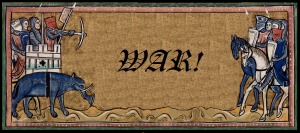 Rowany Festival needs marshals. We will be doing a centralised inspection point. We also need marshals for tourneys and war. If you can volunteer for a morning or afternoon slot, it would be greatly appreciated.
War scenarios are planned around the second largest viking town during the viking period, and two "Jarls" fighting over who owns it.
The first day starts with a bar brawl including archers, and ends with a scenario I have dubbed "I want my pig back, no that's my pig" – think Viking village crossed with Night of the Long Knives
The second day start and finish with an all out town battle for control of the town, with some bridge, fjord and wall battles thrown in for flavour.
Thank you,
Sir Bain of Stornoway
Festival Heavy Fighting MIC