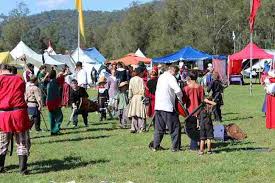 Rowany Festival 2022
Wednesday 13 April to Monday 18 April
Their Excellencies Stigh and Cairistiona invite one and all to Rowany Festival 2022.  This is the largest event for the Society of Creative Anachronism in Australia, featuring battles, tournaments, merchants and markets, camping, classes, competitions and courts, entertainments and much more.
Rowany Festival is six days of the finest festivities on offer.