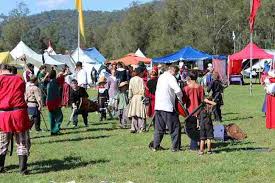 Greetings Rowany Festival-goers,
On behalf of the Barony of Rowany, the Festival Executive and the Festival stewarding team, it is my duty to notify you that Rowany Festival 2021 has been cancelled.
I'm sure that it comes as no great surprise to say that the risks and costs of running it under pandemic conditions has made it unviable in its current incarnation.
We apologise for any inconvenience that you have suffered, and we hope to see you at a future Rowany Festival, when it is safe for us all to gather again.
I have notified the bookings officer to begin the refunds process of all purchased tickets. It could take a few weeks at most, so please be patient. If you have any specific questions about this process, please address them to Mistress Slaine at festivalbookings@lochac.sca.org
We are still seeking a steward for Rowany Festival 2022 and this year's team suddenly has a lot of availability to work with you; please get in touch with the Seneschal of Rowany Lord Jean-Christophe at seneschal@rowany.lochac.sca.org or me at gui@sca.org.au
Yours in Service
Gui von Oberhausen
Erstwhile Rowany Festival Steward 2021