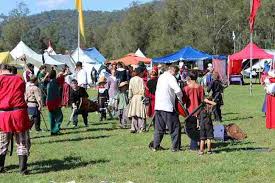 Rowany Festival is the largest event in the Kingdom of Lochac, in the Society for Creative Anachronism, and is hosted by the Barony of Rowany every year.
The Barony of Rowany has now opened bookings for Rowany Festival 2021, which will be held Wednesday 7th April 2021 to Sunday 11th April 2021 (and campsite setup on Sunday 4th April 2021).
We understand that these pandemic times are strange, and the civil rules for gathering change often. To this end, the Barony of Rowany will review the booking numbers just after the first bookings cutoff (on Friday 22nd January 2021) to decide if the event is viable in terms of expected numbers and legal constraints.
Full refunds will be issued promptly if the event is cancelled, so you should not fear to book early if you intend to attend. Use the links in the 'Bookings' menu above.